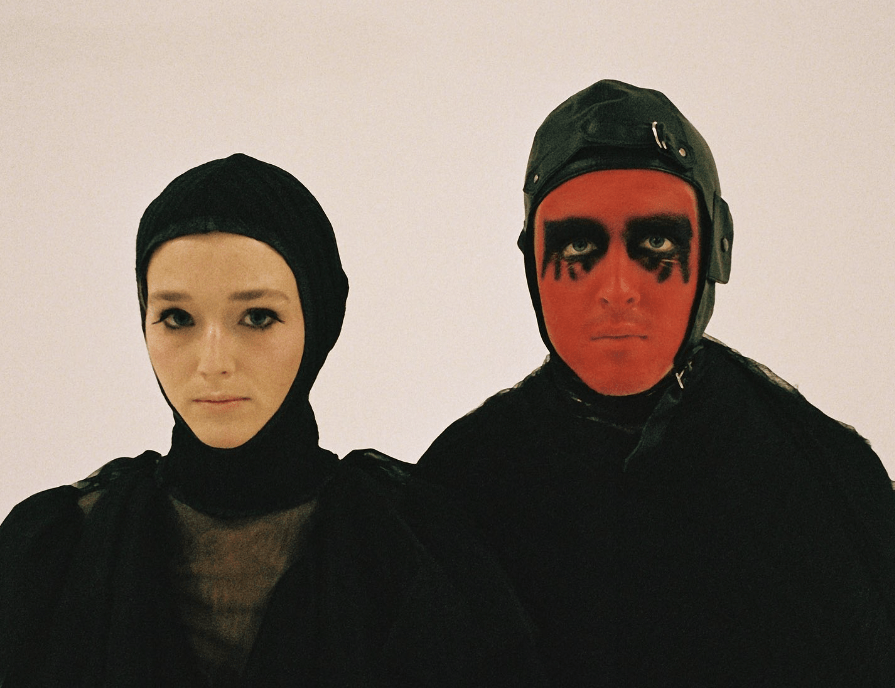 Music from the In-Between:
A Review of "I Love You Jennifer B" by Jockstrap
In the crowded upstairs of a dive bar in Philadelphia, there is dust, the smell of well tequila, a few dozen twenty-somethings eagerly negotiating their plans for the evening, and a small stage. As the lights dim, folks meander towards the dark corner of the bare-bones performance space, and a single A5 chord from an acoustic guitar cuts the chatter.
UK duo, Jockstrap, takes their place casually (if not a bit awkwardly) as they settle into their role for the evening. Vocalist & multi-instrumentalist Georgia Ellery stands straight, wearing a structured gray suit as she scans the audience. Producer Taylor Skye wears a camo hoodie (hood on) and sits where he will remain for the entirety of the evening—obscured by his synthesizer while avoiding eye contact.
The energy in the air is palpable and filled with what can only be described as curiosity. Shortly following the release of their debut full-length album, I Love You Jennifer B, Jockstrap is hitting the road on a worldwide tour. As audience members, we have seen countless performances. We congregate in a room that has held many musical acts, surrounded by music enthusiasts with similar interests (and tote bags), but what we are about to experience occupies a space that is entirely unprecedented and impossible to categorize.
I Love You Jennifer B is, at its core, music for music nerds. Skye and Ellery met at London's Guildhall School of Music & Drama. Their music oozes with the technical skill and mastery of theory that comes with years of classical training. But Jockstrap's sound is not inaccessible or esoteric in the way music-for-musicians can be. There's a distinct air of reckless abandon—and even silliness—throughout this album (see: the vocal sample throughout "Jennifer B" that sounds like an evil version of Hank Hill). In earworms like "Greatest Hits" and the album's runaway star, "Glasgow," listeners may be caught off-guard by the approachable melodies woven throughout the layers of hyper-futuristic production. They are unpredictable and impossible to nail down. Their ambiguity is indescribably refreshing. 
In Jockstrap's live performances, Ellery commands the stage with the seriousness,  grace, and grit of a highly trained ballerina—an undeniable master of her craft. She is calculated and pitch-perfect, yet fluid and eccentric. Behind her, Skye sits nearly stock-still, his eyes rarely moving away from his instrument as he produces sounds that both complement and completely disrupt Ellery's liquid voice. A mad scientist creating total mayhem with each keystroke. 
Throughout I Love You Jennifer B, Ellery is consistent in her delivery across each track. Her voice is soft, unassuming, and with little embellishment. As the principal songwriter of the group, her lyrics read as poetry. "Neon," the album's opening track, eases the listener into a false sense of comfort as she almost whispers: "Red eye of the dawn/I see you across the hill." 
About 30 seconds into the song, we are introduced to Skye's whiplash-inducing production. Dramatic, swelling orchestral themes are violently punctuated by borderline-obnoxious bass drops and techno breakdowns. 
Even the most emotionally fraught lyrics, like in Track 7, "Debra" ("But pain is also growth / And grief is just love with nowhere to go"), are immediately followed by a cacophonous mixture of Bollywood-inspired riffs, laser sound effects, and drums. The album's relatively low-key tracks like  "Angst" (a personal favorite) and "Lancaster Court" are interrupted by sped-up, almost-manic vocals and the crashing of war drums, respectively. It is completely chaotic and very much intentional. 
"Concrete Over Water" is where Jockstrap's enigmatic nature is best showcased. It is over-the-top and almost operatic, with lyrics and vocals delivered by Ellery that are so sensory and moving, it feels like she's describing a moment from the listener's own past. The song goes on to flow in and out of plucky, yet eerie and intimidating strings;  dizzyingly-fast synth riffs; and vocal samples that sound like the chants of an angry mob.  In sharing this song with a friend, he said, 4 minutes in, "How long is this song?" I was initially offended at what I perceived to be boredom until he rephrased: "How did this much already happen in 4 minutes?" 
I would be remiss not to highlight the album's closing track, "50/50." It is the perfect bow to wrap up the gift that is I Love You Jennifer B. It's Jockstrap's certified banger. Ellery's  nonsensical lyrics and bizarre vocalizations find perfect harmony with Skye's driving, bass-heavy techno beats. Almost all of the album's earlier tracks maintain a sense of whimsy and delicacy. Not "50/50."  It's the audio equivalent of Skye and Ellery driving their getaway car off of a cliff.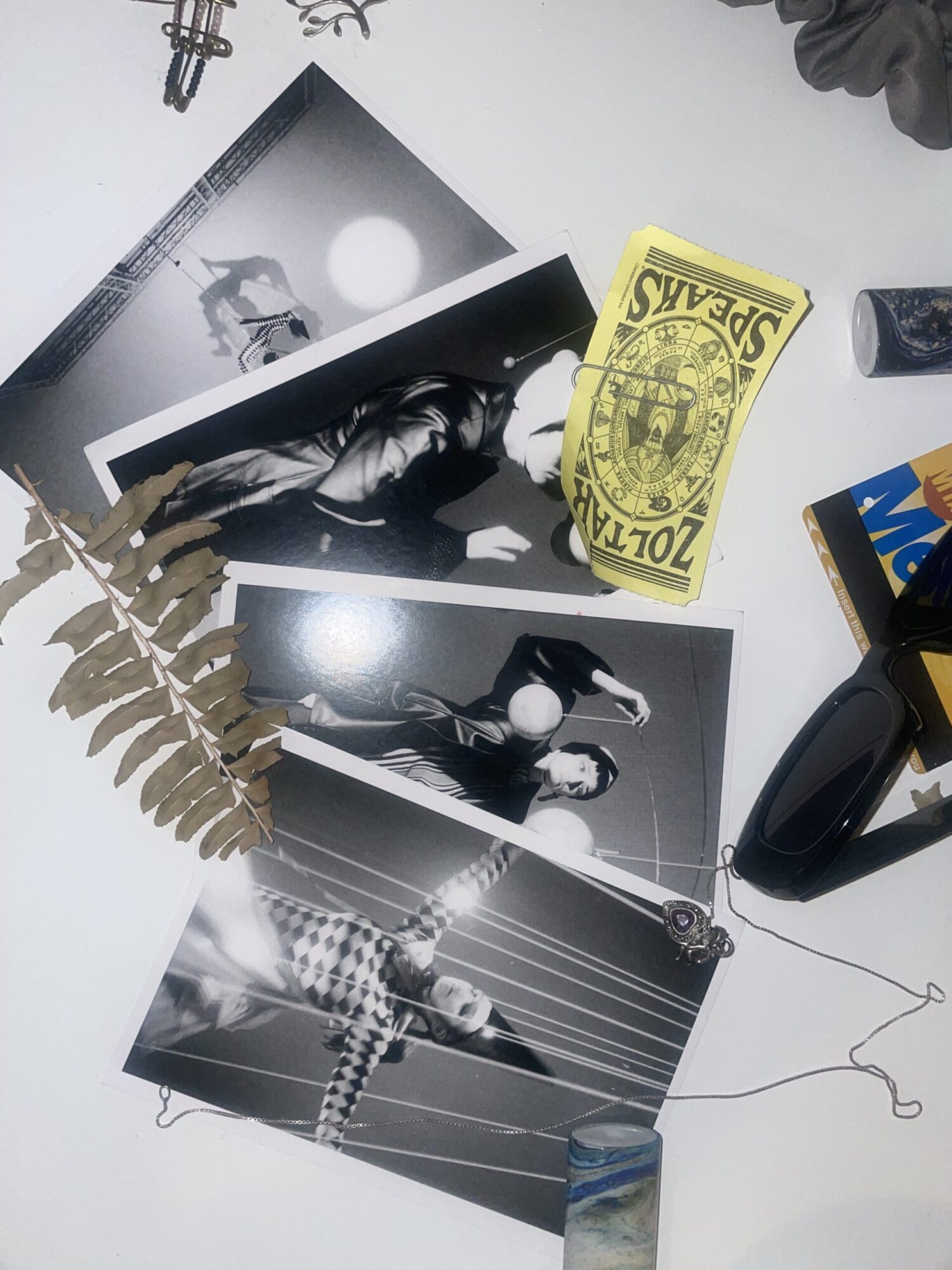 I Love You Jennifer B occupies a very important, yet often unexplored place in the modern music industry.  What makes Jockstrap so special is their willingness to embrace ambiguity. This album is, for lack of a less-cringeworthy idiom, made with love. It is so over-the-top, so outlandish and downright goofy, at times—there isn't a gimmick to be found. There is nothing inauthentic about it. It refuses to be pigeonholed. 
It would be too easy to call I Love You Jennifer B a masterpiece—the logical end result of two highly experienced and technically skilled artists coming together. Every component of the album, from lyrics to loops, evokes something different—the attitude of a 70s punk band, the futuristic production of a Bjork album, the glitchiness and grit of a 100 Gecs single.  Each track uses space in a mystifying way, filling the few minutes they have with as much as possible without ever feeling drawn out or cluttered. Ellery and Skye are in complete control of their listener. They use the four or so minutes they have to build a sonic landscape that is discombobulating and overwhelming while rewarding us with occasional moments of comfort and even nostalgia. 
The musical algorithms of today's streaming platforms reward artists who fit a specific niche. The more consistent you are, the more you are rewarded by showing up on AI-curated playlists. Make something the algorithm can identify as Indie Rock, and if you're lucky enough, you'll earn yourself a fleeting spot on the Indie Rock Roadtrip playlist. And while you may occasionally find a rogue Jockstrap song on an Indie Pop Mix, it will likely be a jarring experience.