Well, folks, we did it. We made it through the sleet, the slush, and the snow, which means that now it's time for one thing: Spectra. What's Spectra? We're so glad you asked. Spectra is a free public art show for LGBTQ+ youth happening at TGW Studio on June 3rd. Spring is here, which means Pride Month is just around the corner.
This Pride Month, we wanted to celebrate all of the wonderful and colorful people that make Rochester great. And what better way to do that than with an art show? So, here's everything you need to know about this exciting event:
Us, TGW Studio! We're an LGBTQ+-owned and operated social impact marketing and creative studio. Basically, we're a bunch of wacky creatives looking to celebrate the voices of Rochester's wacky and creative and wonderful youth. That's where you come in. We're looking for submissions from artists 21 years old or younger from the general Rochester area. All media and subjects are welcome—but pieces that explore things like gender, sexual orientation, identity, and other LGBTQ+ subjects would be especially on-theme. 
An art show! A free, public art show. A bustling hub of creativity. A meeting of the minds. At the time of the show, we'll be collecting donations for The Center for Youth—an organization that's near and dear to our hearts. The Center's Arnett House provides housing for LGBTQ+ youth right here in Rochester. 
At the studio! TGW Studio, that is. You can find us at 210 South Avenue, Suite 130. We're right around the corner from Fuego coffee! Here's a picture of us: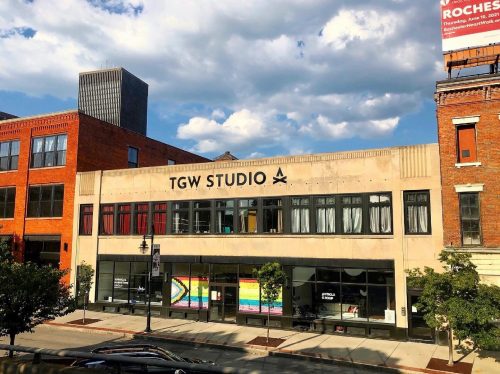 We need all submissions to be sent in by May 25th at 11:59 PM EST. That way we'll have plenty of time to get all of your beautiful work displayed in time for the show, which is on June 3rd from 5:00–8:00 PM. You can RSVP to the party on Facebook
Why not, TBH? We celebrate pride every day here at TGW, but now more than ever, we think it's important that the younger folks of Rochester have a chance to showcase their talents, connect with their community, and have a good ass time.   
Interested in submitting
your work?
Want to join us for Spectra on June 3rd?