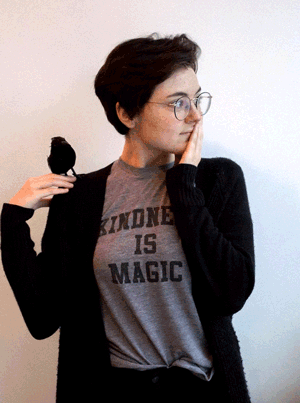 We want to welcome Lily Garnaat, a design student at RIT, to the TGW team as our new Design Intern! We are delighted to see a fresh face in the studio and look forward to all the magic they are bound to whip up. If you see them around, be sure to say hello and introduce yourself.
Gain some insight into Lily, our new creative mastermind.
What drew you to TGW?
Their authenticity.
Where do you see yourself post-graduation?
After going on a road trip or two, working in children's books and freelancing. Maybe having a kitchen to make a mess in!
What is your favorite thing about Rochester? 
No matter who you are, or what your thing is, Rochester has a home for you.
If you could meet anyone and share a meal, who would it be and what would you eat?
How about Tolkien? We could have afternoon tea, dinner, and supper as per hobbit protocol. 
If you could know the absolute and total truth to one question, what question would you ask?
How the heck. Do you cut a mango. I don't get it.
What's the closest thing to real magic?
Being kind, learning something new, the people you love, Dad's pumpkin pie.
Interested in learning more about our intern programs? Contact us.