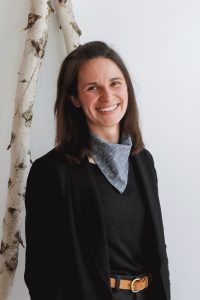 We're thrilled to welcome Beal St. George to the TGW team as our new Sr. Digital Strategist! Beal comes to us from Burlington, VT where she most recently was igniting positive change at Let's Grow Kids, an organization committed to ensuring affordable access to high-quality child care for all Vermont families. Though hailing from Vermont, Beal is actually a NY transplant and is excited to be back in her home state. We chatted with Beal to get all the juicy details about her interest in marketing and the like. See what she had to say:
What got you interested in marketing/strategy/design?
My dad used to own an offset print shop in Ithaca, NY, called Fine Line Printing. I think I absorbed a lot of his love for the craft—from the darkroom to the press operation. My mom worked for forty years as an editor. I remember watching her poring over a lightboard with a blue pencil making layout changes and copy edits. Through my parents' work, I learned about the process of design, strategy, and execution from start to finish. I'm still obsessed with all things print media, but I found my own career path in the digital realm.
Do you have any weird or unexpected talents?
I can fix bikes! I used to volunteer at a nonprofit bike shop when I lived in Vermont.
What fictional or nonfictional character or person most impacted you as a kid?
Harriet the Spy. As a kid, I desperately wanted to become a writer. I used to keep detailed journals of everything I noticed (though they weren't biting critiques like Harriet's!). Harriet struck me as gutsy, genuinely authentic, and free-spirited. I idolized her relationships with her friends, Sport and Janie. And, I loved how much Golly, Harriet's nanny, believed in her—and encouraged her to pursue writing: "That's your job Harriet, that's your job for life."
What's an unpopular or obscure opinion that you'll never back down from?
Egg salad knocks my socks off. Especially on a piece of crusty bread with fresh lettuce. Sue me!
I have a cat named Lunch Box.

I absolutely love gardening. Growing my own vegetables—and flowers!—the best.

I am an avid knitter—and socks are my favorite thing to make.