Pride month may be officially over, but at TGW we're just starting the celebrations. This year, we have the honor of partnering with ROC Pride and the Out Alliance to help bring the annual ROC Pride festival to life, the city's second-largest festival. To say we're excited is an understatement.
We are overseeing the concept of the overall theme and creative. From there, we also are working on the website, social presence, and a comprehensive, unique festival guide. With inspiration from Rochester's LGBTQ+ community, we were able to create an exciting look that pays homage to both the past and present of the Pride movement.
Roc Pride Website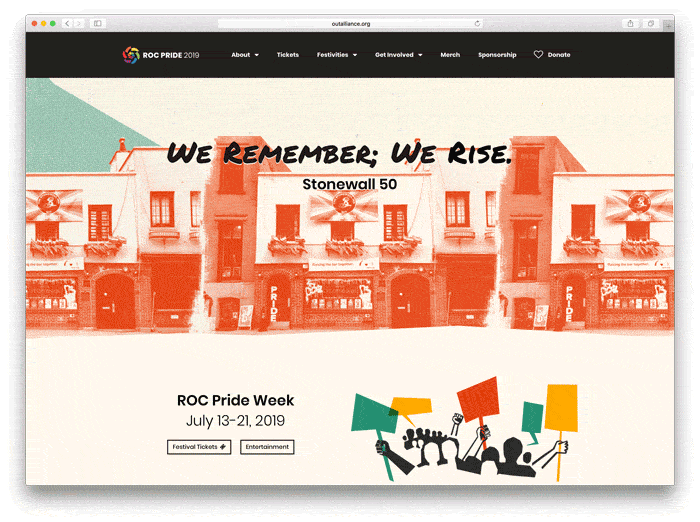 The design concepts for this year's festival were greatly inspired by the 50th anniversary of the historic Stonewall Riots. During the '60s, police raids on LGBTQ+ friendly establishments in New York City were fairly common. On July 28th, 1969 the police attempted to raid the Stonewall Inn in Greenwich Village. The situation quickly escalated and the police lost control when patrons of the bar revolted. Over the next few days, protests took place throughout the Village which eventually lead to the formation of various activist groups aimed at protecting and serving the LGBTQ+ community. To many, the riots marked the beginning of the gay liberation movement and the origin of Pride.
Roc Pride Festival Map
The ROC Pride opening ceremonies will take place on July 14th in front of Rochester City Hall. Throughout the week there are a ton of great events scheduled. Whether you're interested in Pride history, live music or just enjoying a brew, there is something for everyone. Celebrations will culminate on July 20th with the Pride Parade followed by the Festival at Cobbs Hill Park.
We are beyond excited for this year's ROC Pride fest – for us, it is the culmination of a lot of hard work, passion and, well… pride! But more importantly, it is an opportunity for us to all come together to celebrate Rochester's amazing LGBTQ+ community. We hope to see you there!
Thanks for the opportunity Jeff Myers & Out Alliance Crew